WeatherTech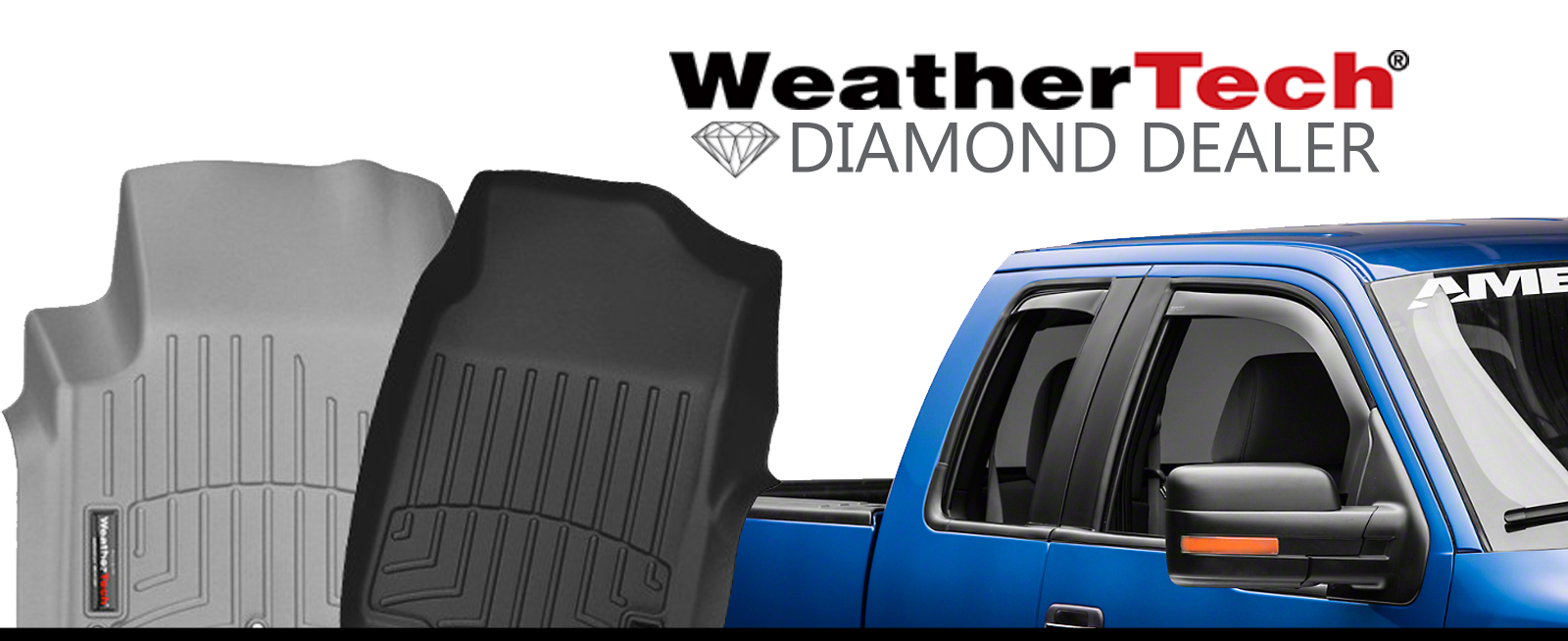 LINE-X of Virginia Beach is a WeatherTech Diamond Dealer
LINE-X of Virginia Beach offers all WeatherTech products, including Digital Fit Floor Liners! Customers love these WeatherTech products:
ALL-WEATHER FLOOR MATS
Flexible Floor Mats for your Vehicle
The WeatherTech All-Weather Floor Mats have deeply sculpted channels designed to trap water, road salt, mud and sand. Our All-Weather Floor Mats are made from an advanced rubber-like Thermoplastic Elastomer (TPE) compound that is an OEM approved, virtually odorless latex-free material, that contains no harmful PVCs, cadmium, or lead and is 100% recyclable! All-Weather Floor Mats are engineered to stay flexible in even the coldest of temperatures and feature a protective, non-stick finish to make cleanup quick and easy. To prevent shifting, the All-Weather Floor Mats include anti-skid ridges on the underside of the mat.
WeatherTech All-Weather Floor Mats are manufactured in America to ISO 9001 standards, and also meet FMVSS302 standards – your assurance of quality. Choose from Black, Tan or Grey to complement virtually any interior color. Available for cars, trucks, minivans and SUVs.
All-Weather Floor Mats were intended to give the best possible protection for your vehicle floor. Many of our front and rear mat applications are model specific, while others are assigned as the best possible fit for the vehicle from our many shapes and sizes. Some rear mat sizes are designed to be trimmed so that they may be customized to fit almost any vehicle.
SIDE WINDOW DEFLECTORS
WeatherTech Side Window Deflectors, offer fresh air enjoyment with an original equipment look, installing within the window channel. They are crafted from the finest 3mm acrylic material available. Installation is quick and easy, with no exterior tape needed.
WeatherTech Side Window Deflectors are precision-machined to perfectly fit your vehicle's window channel. These low profile window deflectors help to reduce wind noise and allow interior heat to escape. Our light tinted and clear Side Window Deflectors are the only deflectors in the world made with a D.O.T. (U.S. Department of Transportation) approved glazing material. Available in light, dark and clear tint for most vehicles. Designed and Engineered in USA – Handcrafted in Germany.
SIDE WINDOW DEFLECTORS OFFER:
Maximum fresh air enjoyment
Optically transparent
OEM quality
Sleek aerodynamic styling
Reduced wind noise
Installed inside the window channel
No unsightly exterior tape
Minimizes interior heat when parked
Helps keep side windows dry in the rain