BAK Industries Truck Tonneau Covers
BAK INDUSTRIES TONNEAU COVERS: DURABILITY, RELIABILITY & QUALITY

One of the challenges many truck owners face when picking a cover is the difficulty in finding one that meets their needs. For instance, a hard cover can offer excellent durability and security, but they can also limit the utility of your bed. Soft covers, on the other hand, are flexible and easy to use, but offer minimal protection. Tonneau covers from BAKFlip offer the best of both worlds, giving you the strength and security of a hard cover with the convenience and ease of access of a soft cover.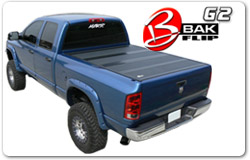 BAKFlip G2 Tonneau Cover
The BAKFlip G2 is the most popular hard folding tonneau cover. BAKFlip Tonneau Covers are the the only hard tonneau cover that fold all the way up and gives full bed access!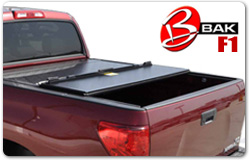 BAKFlip F1 Tonneau Cover
The BAKFlip F1 Tonneau Cover has all of the good looks and functionality of the BAKFlip G2, in an OEM quality Fiberglass Reinforced Polymer version! Fiberglass Reinforced Polymer provides unparalleled impact resistance and strength.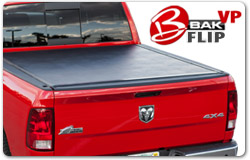 BAKFlip VP Tonneau Cover
The BakFlip VP is the newest hard folding tonneau cover to the BakFlip family. The BakFlip VP is actually an all aluminum tonneau cover (both top and bottom surfaces), but covered by incredibly rugged DURABAK vinyl. BakFlip VP has no visible hinges for a superior look and performance in all weather conditions.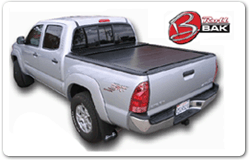 RollBAK Retractable Tonneau Cover
Supports 400+ lbs and locks every 12". Comes with dual water drainage valves and automatically locks for security.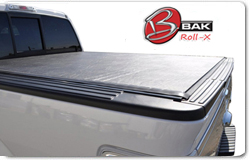 BAK Roll-X Hard Roll Up Tonneau Cover
The only Hard Roll Up cover on the market, the Bak Roll-X provides security no other roll up can. The Bak Roll-X introduces a new genre in tonneau covers. It rolls up like a soft tonneau but is strong like a hard tonneau. Much like a retractable cover but sits on top of the bed for full bed access.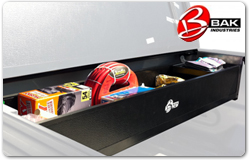 BAKBox Under-Tonneau Toolbox
The BAKBox is an under-tonneau toolbox designed specifically to work perfectly with a BakFlip Tonneau Cover. This innovative product has recently become available and is extremely popular.