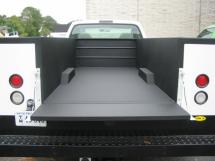 Protect Your Work Truck
\r\n
\r\n
\r\n
Utility trucks are used by contractors, service technicians and commercial personnel to help complete some of the most demanding work. These service trucks must be able to transport heavy and often bulky equipment to and from the job site in a safe and secured manner.
\r\n
Protecting the bed of a utility truck with LINE-X PROTECTIVE COATINGS is benefiting many contractors and other commercial workers everywhere!
\r\n

BENEFITS OF APPLYING LINE-X TO UTILITY TRUCKS:
\r\n
\r\n

Superior Corrosion Protection

\r\n

Impact and Abrasion Resistant

\r\n

Tape and Sticker Resistant

\r\n

Easily Repairable

\r\n

Increased Service Life

\r\n

Virtually No Maintenance

\r\n

Scratch Resistant

\r\n
\r\n
\r\n
\r\n
\r\n
\r\n
"The contractor was thrilled with the LINE-X application... LINE-X not only solved his rust corrosion problem but created an impact resistant finish for better protection from abrasion, corrosion and heavy use."

\r\n
\r\n
\r\n
\r\n
\r\n
Want to find out HOW LINE-X helped this local contractor protect his service work truck? Click Here to read the full Utility Body Case Study.
\r\n
\r\n
\r\n
\r\n
\r\n