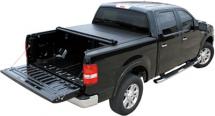 Summer is here and it is finally time for that well needed vacation... But are you ready? The open bed is no place anyone wants to leave valuables or items exposed to the elements, be it weather or opportunists ready to steal anything that is not locked up.
\r\n
\r\n
We have many options on display such as vinyl, aluminum, ABS Composite that are rolled -up, hinged, soft folding and even hard folding covers are available. There are also bed covers that open like a hood of a car and made of rigid, lightweight ABS Composite materials that can be painted to custom match your pickup truck.
\r\n
\r\n
From now until Friday July the 6th we will be giving $50 off any tonneau cover purchase.