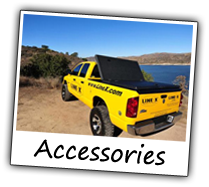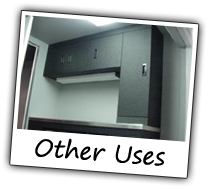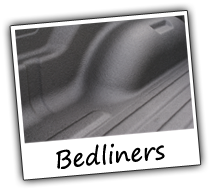 LINE-X is the nation's leading provider of spray-on protective coatings. Our products are utilized in commercial, industrial, agricultural, military and custom applications.
LINE-X consists of several different products.
All systems utilize a two-component, spray-in-place, 100% solids (no air pollution), thermoplastic polyurethane and polyurea.
There are two separate materials that are precisely dispensed through a high pressure, plural component internal mixing polyurethane spray machine. They are each heated to 120-140 degrees with the temperature maintained through a heated hose. Using high pressure, the materials are mixed internally at a 1:1 ratio at the tip of the spray gun. As the material is applied it takes less than 5 seconds for it to harden. As soon as LINE-X lands on the surface, it's dry!
LINE-X products are a fast-cure, multipurpose series of coatings designed for a wide range of retail, commercial, and industrial uses. They exhibit excellent adhesion to most properly prepared surfaces. With its fast cure time, it can be sprayed vertically and even overhead without running or dripping. There are no solvents associated with LINE-X products, which means there are no air pollutants or harmful environmental contaminates.
LINE-X Protective Coatings are resistant to most solvents and acids, making them ideal for industrial and commercial applications where corrosion is prevalent. Using LINE-X greatly extends equipment and vehicle life expectancy. It has a high "shore D" hardness rating, offering excellent impact resistance and superior tensile strengths (up to 6,600 psi) resulting in outstanding abrasion resistance. Because the material is sprayed, there is a complete seal, making the coating "water tight".

LINE-X specializes in spray elastomers polyurethanes and polyureas, or protective coatings. LINE-X has led the industry through many years of actual field testing, putting together a package that makes it relatively simple to get involved in this major market.
LINE-X Premium - BRAND NEW, FOR LIFE.

LINE-X ReNew is a bedliner enhancement system that can be used to repair and enhance any spray-on bedliner to the quality of a LINE-X Spray-On Bedliner.

THE TOUGHEST, MOST PROTECTIVE BEDLINER AROUND. NOW IN COLOR.

Your house is an investment that can create money-saving benefits indoors and outdoors. whether you are looking to insulate, reduce noise, waterproof or save time and money from water sealing and painting each year, LINE-X has the home improvement solutions that will save you money and enhance your home.