For all you Ford lovers, owners and enthusiast - today is a special day. Henry Ford made his first operational car on June 4th in 1896. In honor of this first milestone of such great accomplishments, we are having a Ford Special for the week! (June 4th - 8th)
All Fords that come in during this week will receive $40 off any regular bedliner.
Already have a bedliner? (Don't worry) Need accessories? Get 10% off any accessory purchase.
(For all other truck owners, we will have more specials to come.)
The History: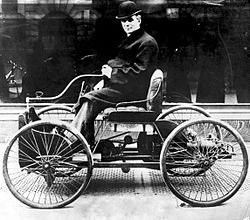 At age 32, Henry Ford successfully engineered his first operating automobile.
Ford Quadricycle AKA: The horseless carriage
Body style: 1-seat
Engine: 2-cylinder
Transmission: 2-speed (no reverse)
Wheelbase: 49"
Curb Weight: 500 lb
Designer: Henry Ford
*Sold for $200 to Charles Ainsley*